Duration:
6 day - 5 nights
p.p. twin share. Excludes Airfares
Galapagos
During this travel itinerary you will visit the Charles Darwin Station where you will see different species of Galapagos giant tortoise.
You will have the opportunity to swim and snorkel with sea lions, sea turtles, marine iguanas, penguins, rays and different species of tropical fishes.
There will be a lot of bird watching; Darwin's finches, blue-footed boobies, pelicans and frigate birds, among others. And you will also visit volcanic craters.
Overview
Overview
| | |
| --- | --- |
| Day 1 | Arrival Guayaquil, overnight 4* hotel |
| Day 2 | Fly to the Island of Santa Cruz to connect with your island tour |
| Day 3 | Full day cruise to another island of the Galapagos |
| Day 4 | Full day cruise to another island of the Galapagos |
| Day 5 | Visit Charles Darwin station, flight to Guayaquil, overnight 4* hotel |
| Day 6 | After breakfast you Discover Galapagos from Santa Cruz comes to an end |
Itinerary
Itinerary
Day 1 – Arrival in Guayaquil
Today you will arrive from your international flight into this South Ecuadorian ciry of  Quayaquil to spent one night in a 4* hotel.
Day 2 – Santa Cruz Island to Highlands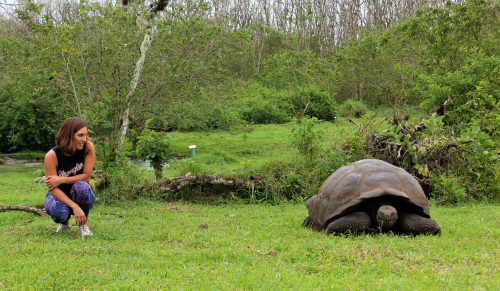 Today you will fly to the island of Santa Cruz (arrival at Baltra airport) to start your land based expedition.
After arrival the tour will take you to highlands of the island with its green vegetation, where they will stop to visit a Ranch. Here you will be able to see Giant Turtles in their natural habitat. You will enjoy  lunch at the ranch.
Optional activity: After lunch the tour will proceed to leave our "soul print" in the Galapagos Islands and you can take part in a project of conservation on the island. The program consists in planting your own tree in Primicias Ranch, this tree will have your name on it and later on, you will receive a certificate for actively supporting the maintaining of the Galapagos' ecosystem.
After this visit the tour will head to Puerto Ayora to check-in in a selected hotel.
Day 3 – Excursion to another island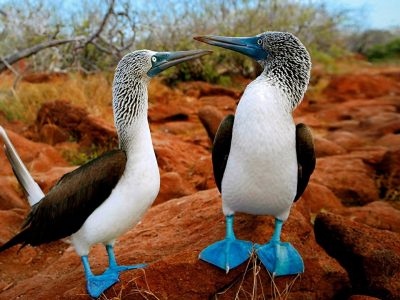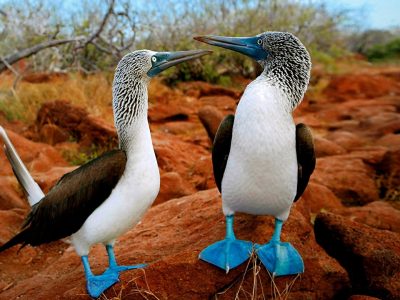 Today you will have the opportunity to make do an excursion to another Island, in order to discover the diversity of the Galapagos Islands. The tour consists of a hike around the island and afterwards you can snorkel, swim or just relax. Based on availability we can confirm one of the following tours:
Bartolome Island: Discover amazing landscapes, and fascinating geological formations, here you will have great opportunity for snorkeling.
North Seymour Island: The main fauna species of this island are Land Iguanas, the Magnificent Frigate bird with their incredible scarlet regular pouch, blue-footed boobies and their particular courtship dance and sea lions surfing across the waves.
South Plazas: Small island but outstanding concentration of wildlife, dramatic cliffs, spectacular natural red carpet of algae and great contrasts to be seen.
Santa Fe: This Island has a lot of diversity. The lagoons of the Santa Fe Island provide an excellent place for snorkeling alongside colorful fishes, sea lions, giant tuna and even small sharks that are often sited in these environments.
Day 4 – Excursion to another island
Choose another island to visit today from the above options.
Day 5 – Charles Darwin Station – fly back to Guayaquil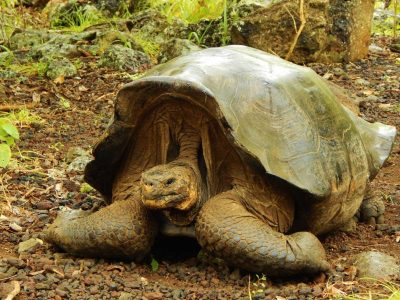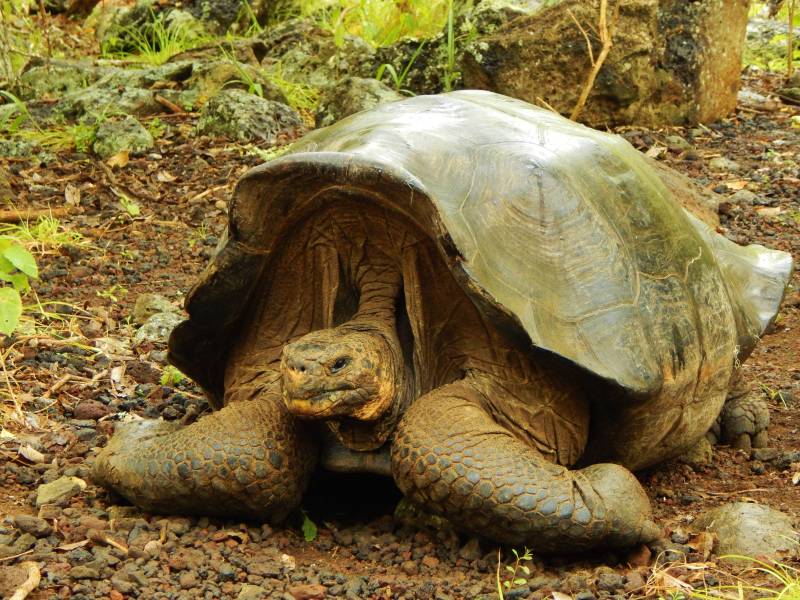 After breakfast, we will head to the Charles Darwin Station. The center is the best source of information on habitats and local conservation, as well as other fascinating relevant statistics.
The most striking attraction of this station is certainly the Tortoise Breeding Center, where it is possible to view tortoises of varied sizes and shapes. Travelers here can freely walk and get their photos taken with the tortoises. Among other inhabitants at the center, you can see the land and marine Iguanas and different species of birds.
After this visit you will be brought to the airport for your fight to Quayaquil (not included in the pricing).
A driver will await you to bring you to your 4* star hotel for a one night stay.
Day 6 – End of itinerary
After breakfast your Discover Galapagos from the island of Santa Cruz will come to an end. Travel Just 4U is happy to connect you with another suggested itinerary from our website. Just let us know where you would like to go.
Inclusions
Inclusions:
Overnight accommodation at start and end of the tour in Guayaquil in a 4* hotel
All transfers
Accommodation in Santa Cruz in the selected hotel with breakfast (in tourist category)
Meals as per the program – depending at the meal it can be at the hotel, on-board or at local restaurant. (Ask our Travel Consultant for details)
Excursions mentioned in the itinerary
English speaking naturalist guide on all excursions
Not Included:
All international and internal airfares
Entrance fee to the Galapagos National Park (US$ 100 per person )
Galapagos Migration Card (US$ 20 per person)
Optional excursions as supplement
Drinks and not mentioned meals
Tips (it is not mandatory)
Extra expenses
Airfares
Travel Just 4U has competitive South America Flights to get you to the starting point of your chosen Holiday. Contact one of our Travel Consultants for a full quotation including airfares, stopovers and any additional travel you wish to organize.
Other Ecuador Experiences